CHOP - A highly brutal party game
CHOP is coming out of Early Access on Steam and is also released on Nintendo Switch !
---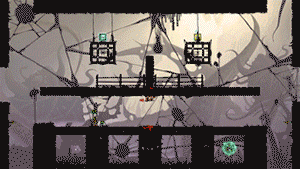 We want to say a huge thank you to those who supported us all the way from the Kickstarter campaign to this whole year of EA. We didn't expect it to be so full of obstacles, but we're really proud to never have given up.
Here's a brand new trailer for the occasion :
The full release brings out lots of new stuff :
You can now choose between automatically sticking to the walls or opt for a more classical wall slide.
A new game mode : Skull Hunter.
A tournament mode allowing to play the game up to 16 players.
Lots of new arenas for a total of 32.
Possibility to deactivate the Grab Kills :(
Possibility to lower blood and guts display
Better behaviour of the A.I
Possibility to choose between scores diplayed directly during rounds and dedicated score screens between rounds
Translation in 8 new languages (Deutsch, Spanish, Italian, Portuguese – Brazilian, Russian, Japanese, Korean and Chinese) on top of French and English.
Also, here's a list of bug fixes that come along the full release :
[Bug Fix] When a player slot was not selected, P3 and P4 couldn't valid the next screen round
[Bug Fix] In Last Survivor game mode, the Sudden Death with more than 2 players stopped after only one player got killed
[Bug Fix] In the round result of a tournament in 1VS1, the unused slots were not locked
[Bug Fix] The loading screen was not displaying the character portrait of player one if he was not selected
[Bug Fix] The friendly fire was not working properly with a dash or a throw
[Bug Fix] The player could throw his sword through a wall if he was really close to another player
[Bug Fix] The player got stuck for 1 second when grabbing up after a successful Grab Kill
[Bug Fix] Shooting direction was sometimes not right when shooting in a warp
[Bug Fix] Some SFXs were not properly muted
[Bug Fix] When using Telekinesis, the sword couldn't be called back but could be picked up on the ground
[Bug Fix] When using Teleport, the player got stuck in position when quickly pressing Jump + Throw + Wall Direction
[Bug Fix] On very specific conditions, the player could get teleported out of the arena
[Bug Fix] Sometimes the Gun SFX kept on going on and on
[Bug Fix] A comumn was missing in the stage selection
[Bug Fix] On Stage 32, the vertical saw didn't kill the player
[Bug Fix] On very specific conditions, the player could disappear in a warp
[Bug Fix] In SkullHunter game mode, the victory condition by default was not set on 25 on the loading screen
[Bug Fix] Sometimes the player got stuck on a ledge after a dash in a warp
[Bug Fix] In SkullHunter game mode, dropped skulls kept on moving after a player died in a fan
[Bug Fix] In a tournament, the winner didn't have the correct victory stats
[Bug Fix] In a tournament in Skull Hunter game mode, the timer not displayed created a softlock when players disappeared in their portal
[Bug Fix] In 1VS All, player could not kill player 3 or 4 with a throw
[Bug Fix] In Skull Hunter game mode, the dropped skulls disappeared when the player got killed by a piston
[Bug Fix] In Skull Hunter game mode during a tournament in 1VS1, the victory conditions did not match the custom settings
[Bug Fix] In Skull Hunter game mode during a tournament in 1VS1, when player 2 took his portal, player 1 disappeared too
[Bug Fix] During a tournament, the players names were missing on the tournament result screen
[Bug Fix] When shuffling the custom names in a tournament 2VS2, the names got reset
[Bug Fix] When a teammate overlapped an opponent, there was a chance that the dash didn't kill
[Bug Fix] With the Neutron Capsule Power-up, no mine were dropped if the player didn't hold his sword
[Bug Fix] The custom names registered in a tournament were not saved when you start a new one
[Bug Fix] During a tournament, the custom victory conditions were reset when resuming the tournament
[Bug Fix] In Skull Hunter game mode, the player could get stuck walking on a skull
[Bug Fix] If players grabbed each other on the same frame, they both got killed
Files
CHOP_Demo_Linux.tar.bz2
414 MB
Version 1.0.0
Sep 15, 2019
Version 1.0.0
Sep 15, 2019
CHOP_Demo_Windows.zip
370 MB
Version 1.0.0
Sep 15, 2019
Version 1.0.0
Sep 15, 2019
CHOP_Demo_Linux.tar.bz2
414 MB
Version 1.0.0
Sep 15, 2019
Version 1.0.0
Sep 15, 2019
CHOP_Demo_Windows.zip
370 MB
Version 1.0.0
Sep 15, 2019
CHOP_Linux.tar.bz2
437 MB
Version 1.0.0
Sep 15, 2019
Version 1.0.0
Sep 15, 2019
Get CHOP - A highly brutal party game