CHOP - A highly brutal party game
CHOP - Major update : new game mode !
---
Beta 1.0.19 is here, just in time for Christmas ! It brings some cool stuff, like a new game mode : Skull Hunter.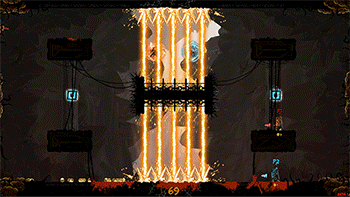 We can now officially say that all the remaining content (tournament mode, stages, grab kills...) will be added to the game by the end of next february :)
Don't hesitate to reach us at contact@chop-thegame.com for any question or to report a bug.
Happy holidays guys !
Change log :
New game mode : Skull Hunter. Your goal here is to loot golden skulls on your opponents' corpses and to drop them in your portal.
Skull Hunter exclusive power-up : the magnetic totem
3 new stages to unlock
All loading times are significantly shorter
Important code optimizations
Inputs icons on rebind screen for PS4 gamepad
[Bug Fixed] Some sounds were not paused when pressing start in game
[Bug Fixed] Custom setting « Start with obliterator » was only working for first spawn
[Bug Fixed] Player 4's special ability could be changed (i.e. possible to play Drekan with Teleport)
[Bug Fixed] A thrown sword could be stuck in lasers
[Bug Fixed] Unpluging a gamepad during a kill wasn't pausing the game
[Bug Fixed] Audio ducking on shields sound
[Bug Fixed] Power-ups illustrations not properly displayed on the settings screen
[Bug Fixed] Disconnecting a gamepad on victory screen was causing a softlock
[Bug Fixed] Pistons collisions not working properly
[Bug Fixed] Corner warps were not teleporting in diagonal
[Bug Fixed] Doing a ledge climb to the ceiling on a moving platform was reversing player's direction
[Bug Fixed] Teleporting when equipped with neutron capsule could make player explode
[Bug Fixed] Thrown swords could go through breakable or ricochet platform if thrower very close to the platform
[Bug Fixed] Bullets could go through some platforms if shooter very close to the platform
[Bug Fixed] Victory music was overlapping menu music when going back to menu
[Bug Fixed] In Last Survivor (2VS2), victory screen was not triggered if setting « scores on HUD » was enabled
[Bug Fixed] In Last Survivor : hardlock if winning team dies before the end of the sudden death
[Bug Fixed] On some conditions Khuno could throw 3 swords
Files
CHOP_Beta1.0.19_windows.zip
398 MB
Version 1.0.19
Dec 22, 2018
CHOP_Beta1.0.19.tar.bz2
437 MB
Version 1.0.19
Dec 22, 2018
CHOP_Beta1.0.19_osx.zip
413 MB
Version 1.0.19
Dec 22, 2018
Get CHOP - A highly brutal party game